Bumper Stickers

#305 Econo Bumper Stickers
Our Best Value

#350-Econo
(3" x 11.5")
Econo bumper stickers are screen-printed in either one or two standard colors (listed on right). For non standard or more than two imprint colors, see item #300-E below.
#300 Bumper Stickers

Standard Sizes and Shapes

#300-A
(2" x 9.25")
Express yourself! And what better way to express your opinion, than by sticking it to your bumper? Bumper stickers make a great item to raise money for your cause, or simply make a good old fashioned profit, by marketing your own catch phrase or slogan.

#300-B
(3" x 6.25")
Bumper stickers are perfect souvenirs for your business or town. Give them away aor sell them in your shop and your customers will pay you to display your ads!
#300-C
(2.5" x 9.25")
Charities, clubs and organizations use bumper stickers to promote their services or events.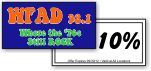 #300-D
(3.75" x 7.5")
Radio stations love bumper stickers to promote their stations during drive time. Many make a profit by selling ads for coupons on the back of the liner sheet. (Back side printing priced as an additional color).

#300-E
(3" x 11.5")
Yes, everyone knows that bumper stickers are frequently used in political campaigns. And that's because they work!

#300-F
(3.75" x 11.5")

"Bump Up" your business! Bumper stickers are the perfect advertisement - potentially reaching thousands of people for only a few cents. That's what's known as a terrific value in "cost per impression".

#300-G
(2.75" x 15")
If you are looking for a profitable fundraiser for your school, team or non-profit operation, bumper stickers are a terrific option. For example - if 1000 bumper stickers cost $280, and you offer them for sale at only $2.00 per piece and you have a profit of $1,720.00! Sell for more per piece and you can make thousands! That's a great boost for team spirit!

#300-H
(3.75" x 15")
Bumper stickers are the perfect way to show your pride in your school, child, or community.


#300-I
(4" x 6")
Oval or Rectangle
Have a public service announcement to communicate? Bumper stickers are the perfect "vehicle" for your message!