Finding solutions that stick
Our standard decals are available in 3 standard grades, economy, commercial and industrial. These decals will satisfy the needs of approximately 95% of our clients' applications.

But if you happen to have a difficult application, that's where our research team really shines. Working in partnership with our American suppliers, we have developed many products that can outlast, out-stick, and out-shine our competition.


Doming Technology
Our polyurethane resin are engineered and manufactured in the USA. We are constantly researching ways to improve our techniques and formulas.
All of the resins we use are suitable for extended outdoor use.
Call us if you have a special project, like domes that can withstand extreme heat or cold or other conditions. We love a challenge!


Creative Innovations
Like to add a little something extra to your domed decal? Our technicians have come up with ways of adding dyes, glitters, even customized scents like strawberry or pine to your domes.
Or maybe you need a super soft and pliable dome, or one that is rock hard? Perhaps you want strange shapes, odd holes or embedments. If there is a way to dome it - we'll find it.
Inks and Graphic Technology
We are constantly researching all of the latest imprinting technologies. We like to stay on the leading edge of the industry.
Our engineers are always tweaking our equipment and streamlining our work flow to make sure every print is as good as the first.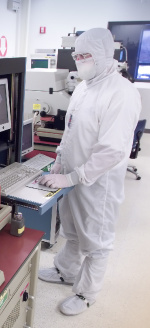 Clean Room Technology
Our doming labs and drying rooms are carefully monitored for consistent temperature and humidity providing the ideal condition for successful doming.

Air quality is also an important factor and that is why we employ air filtration systems to eliminate any contaminants that may interfere with the doming process. By implementing clean room technology in our production line, we are able to produce jobs that our competitors can't or won't take on. For instance, our XL domed decals can only be done right in a clean room laboratory environment.