Caselogos industrial OEM decals with Extra-Tac Adhesive for Rough Surfaces
Who uses Industrial Decals?
Industrial decals are ideal for O.E.M. labeling use on any industrial machine. Great for construction equipment, dumpsters, containers, trailer trucks, and marine use. Lamination is available at an additional charge if extra protection against some oils and solvents is required.
Perfect for automotive decals, whenever you need to place a label inside the trunk or door jam, even inside the engine compartment. Extra adhesive for sticking on a rough surface and can be exposed to higher ambient temperatures than regular decals.
If you manufacture or service office equipment, these decals can take a lot of wear and abuse. They will stick to rougher plastics, and surfaces that require a little more "grabbing" power than a smooth plastic surface.
Not tough enough? Well we have many alternatives for adhesives and substrates that aren't listed on our site - contact us and we will work hard to find a solution to your labeling dilemma.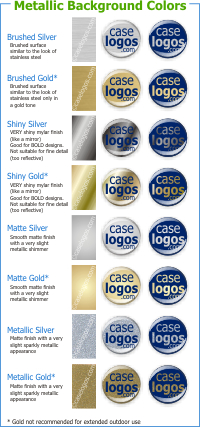 caselogos.com home price match policy bookmark submit caselogos faqs caselogos site map
Metallic Industrial Decals

Our metallic background industrial decals have a permanent adhesive. Screen printed for the most durable imprint. UV resistant.
#345 Metallic Industrial Decals
Ordering Information
100% Made in USA
|
No Die Charge for Custom Shapes!
How to Measure and Price your Caselogo Metallic Industrial Decal
Enter Height and Width into calculator on right

Imprinting Information

Price includes one color screen print on your choice of background colors.

Background Colors: brushed silver, shiny silver, or white
See metallic background color chart

Imprint Colors: black, red, blue, green, forest, yellow, orange, purple, or white
See standard imprint color chart

PMS Color Match: $35.00 (g) per color. Exact match NOT guaranteed.

Adhesive Grade: IGA Adhesive Grade Info

Set Up Charge:
$25.00(g) for orders under 250 pieces.
250 pieces and up: FREE SET UP

NO DIE CHARGE: Custom shapes are FREE

Back Slitting: Included for FREE if applicable. Not all shapes and sizes are available with back slitting.

Overprint Clear / Lamination: *Protect your decal from scuffs, oils and some solvents while extending outdoor durability beyond 5 years with the use of over laminates. Click here for details/pricing.

Packaging: All decals are bulk packed. For your convenience, some smaller or irregular shaped decals are shipped multiple-up on single sheets.

Allow 7-10 working days production.


Caselogos are priced per piece (each).
Larger quantities and sizes are available. Contact us for pricing
Prices do not include shipping or applicable sales tax. Prices and specifications are subject to change without notice.
The artwork, designs and trademarks imprinted on the products displayed in our web site are reproduced only as examples of the type and quality of the products available.
They are not intended to represent that the products are either endorsed by or produced for the owners of the artwork, designs, or trademarks.